SEACOR's (CKH) attempt to be taken private by American Industrial Partners is in dire straits following a scathing rebuke from institutional investor T Rowe Price.
The all-cash offer at $41.50 for the Fort-Lauderdale-based diversified transportation and logistics group, needed to clear 66.7% support from shareholders. Yet, the number of shares legally tendered has dwindled to less than 5%. The hard deadline for the merger offer is on April 5, 2021.
If the deal fails it will be a stunning defeat for Executive Chairman and Chief Executive Officer Charles Fabrikant, a savvy deal maker and architect of SEACOR's diversified business model. But it will also be a win for shareholder activism, minority shareholder rights and capital markets.
When the proposed merger was announced on December 7, 2020, it was hailed by Mr. Fabrikant as "an exciting next step for SEACOR, delivering stockholders an immediate and meaningful premium for their shares and providing the company with access to additional growth capital and financial flexibility".
According to the company, the purchase price represented a 14% premium to the closing stock price prior the announcement, and a 31% premium over the 90-day weighted average price.
T Rowe Price thought differently. In a letter addressed to the Board of Directors on January 11, 2021, the investment management firm described the proposed merger as "a deal (that) carries the hallmarks of a particular, problematic type of transaction we have observed (and objected to) many times: an opportunistic transfer of value from public-market investors to private investors."
T Rowe Price – which reported a 14.6% ownership in SEACOR as of December 31, 2020, a substantial increase from its 8.3% stake a year ago – questioned the deal's timing and proposed valuation. It alleged that the price of CKH shares before the offer was below the company's intrinsic value due to 2020 economic conditions and cyclically low activity in some of the businesses.
Mr. Fabrikant's comments on achieving immediate share premium and securing growth capital and financial flexibility appear in conflict with his own words in the company's letter to shareholders on May 4, 2020.
In that letter, written as the Covid-19 pandemic was hitting Florida and the rest of the US hard, Mr. Fabrikant had stated "Throughout my discussion of our business, I have sought to focus on cash generation and sustainability. My time horizon is multi-year and that is how I measure ours (or any) business."
As for financial flexibility Mr Fabrikant had said "I am comforted by the diversity of SEACORS's business. Although this diversity may be confounding to analysts, I believe it serves SEACOR well in the good times and the bad."
"We follow a disciplined approach to internal growth and acquisitions and are willing to build business from scratch and nurture business that tend to have variability in year-to-year earnings."
The market appears to have sided with T Rowe Price. Following the publication of the letter, shares of SEACOR have consistently traded above the $41.50 level.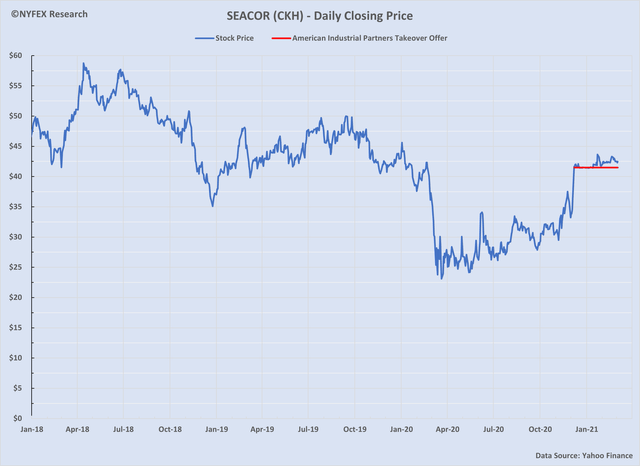 The original tender deadline – set to expire on January 20, 2021 – has been extended several times and each time the number of shares legally tendered has been reduced from a high of 27.84% of shares outstanding to a meager 4.48%.
Try as you might, unless the takeover offer is substantially improved, I cannot see how American Industrial Partners can pull a rabbit out of this hat.
Note: Data were sourced from company press releases and/or SEC filings, or they were estimated by NYFEX Research if not readily available. Data are believed to be accurate but with no warranty, express or implied.
This article, including the information contained herein, is the intellectual property of Lambros Papaeconomou and NYFEX Research and it may not be copied, reproduced, republished, or posted in whole or in part, in any form, without prior written consent.